Gone were the days when wearing hoodies like online shirts would make you look like a scary robber in the streets. Today, you can stand out by wearing one as long as you know how to coordinate it the right way. This modern era calls for swag, and this includes rocking on custom t-shirts and hoodies.
A hoodie is no longer limited to athletes to make them warm. This has now also become a trend in the fashion world to create a modern statement and to be in with the new. So, if you are planning to buy a new one or reuse your old custom t-shirts and hoodies in the closet, you can confidently do so now.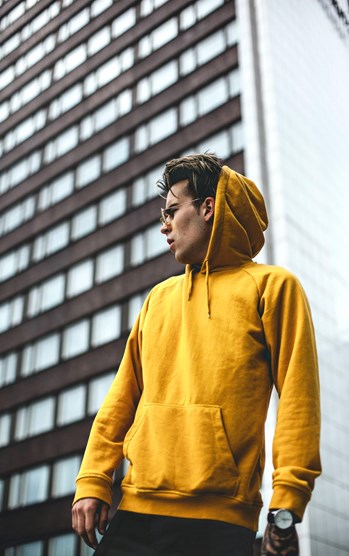 Moving forward, here are the different ways on how to wear a hoodie with a modern style.
Perfect for the cold days, you can pair up your hoodie with a jacket or an overcoat that blends in with your hoodie's color. Wearing a white or gray zipped-up hoodie would look sharp underneath an overcoat. Then finish the whole look with skinny jeans and cool white shoes. You can also wear a polo or a white shirt underneath an unzipped hoodie and pair it with black pants and black sneakers.
You can look casual and cool at the same time with a hoodie. This will make you look sporty and classy at the same time, perfect for an everyday look. Team up your black fitted joggers with a black hoodie and black sneakers. If you want to go for a gray hoodie, you will still look fresh when you pair it with black joggers and white sneakers. Last but not the least, look like a chill Casanova with a gray hoodie under a black overcoat, black cap, joggers, and black leather shoes.
Complete the Look with a Black Leather Jacket
Your black leather jacket will look good over hoodies of different colors you can experiment with. Pair them with dark jeans and black boots and you are good to go.
Team It Up with a Gray Suit
You can still rock a formal look with a hoodie. Wear a light polo shirt as a base, add a gray hoodie, and a gray unbuttoned suit or blazer. Pair them with light brown pants and white sneakers. Don't forget your sleek black eyeglasses for a smart-casual finish.
You can't make the modern look successful without jotting down some of these things you need to remember when mixing a hoodie stylishly.
Here is a list of some guidelines you need to remember:
Choose hoodies with pure cotton designs. This will add quality to your look.
Oversized or Linkin park hoodies are outdated and only for teenagers and kids.
As much as possible, choose pullover designs over the zipped-up ones.
For a sharper look, always go for a fitted hoodie.
Steer clear of university hoodies because these don't go along well with our aim for a stand-outish modern look.
Funny characters in hoodies are always a bad idea.